HEATING, VENTILATION AND AIR CONDITIONING (HVAC)
Spring Mounts, Hangers, Rubber Pads and Rubber Mounts
Various type of mounts and pads are used for a variety of applications within the HVAC industry mainly for
Active Isolation
which reduces the vibration caused by the HVAC equipment. Typical HVAC applications are Centrifugal Fans, Centrifugal Pumps, Compressors, Cooling Towers, HVAC units, Axial Blowers and Centrifugal Chillers
There is a series of Spring Mounts and the application can be fitted with spring mounts directly on the floor or a steel base or a concrete filled base which we call an Inertia Base.
The Spring Hangers and Rubber Hangers are an effective way of isolating noise and vibration in pipe work from the ceiling or structure from which the piping is suspended.
A range of Rubber Pads are convenient for reducing noise and vibration in non-critical areas, usually ground floors and basements in application that do not require the extra efficiency of spring mounts.
One piece mouldings Rubber Mounts with metal parts completely covered by rubber for corrosion protection are used in applications that do not require the
extra deflection of steel springs. They are efficient, inexpensive and easy to install.
If you are looking for a solution or want to find out more information for solutions supporting the heating, ventilation and air conditioning industry, please Contact us.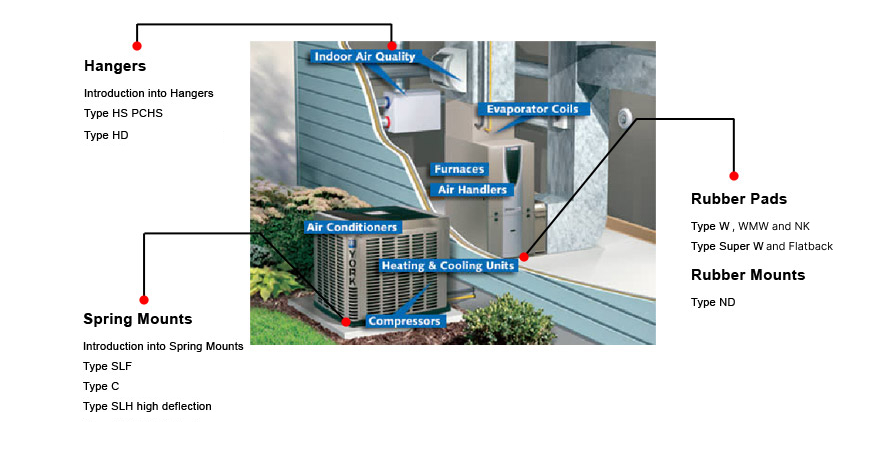 See the links below to download more info