ANTI-VIBRATION AND RUBBER PRODUCTS
ACTOM manufactures and supplies a range of products across the various industries listed. Many of the products are used across the industries and below weshow a global grouping of our products. The range is a mix of locally manufactured and imported products, for critical and non-critical applications and suited tothe local market.
Rubber and rubber-to-metal mounts are for applications that require relatively small deflections with high loads at high frequency and provide damping. Theyare compact and can only operate in normal ambient and slightly higher temperatures.
Steel spring and wire mounts on the other hand provide for larger deflections with high loads at low frequency but no damping. They need more space and canoperate at higher temperatures.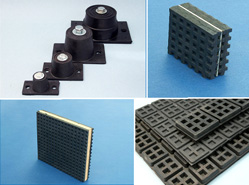 Rubber Pads are convenient for reducing noise and vibration in non-critical areas, usually ground floors and basements in applications that do not require the extra efficiency of spring mounts.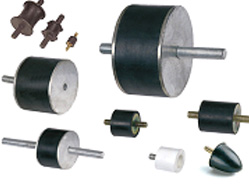 These mountings are one of the most versatile vibration isolation products available, ideal for all types of anti-vibration control ranging from electronic to heavy duty industrial plant and automotive applications.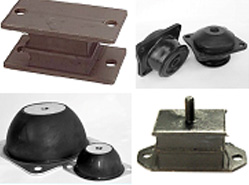 Sandwich or Rectangular mountings comprise of rubber sections sandwiched or bonded between metal plates and can be loaded in compression and shear.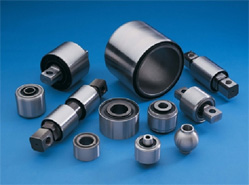 These products include resilient bushes, spherical bearings, control link assemblies, torque reaction links and axle box bushes.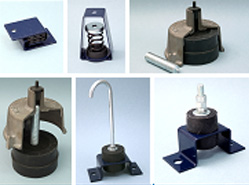 The acoustic range of products is mainly used for acoustic flooring, walls and ceiling.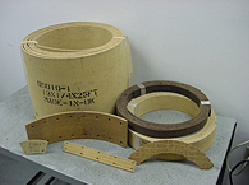 Woven linings generally maintain adegree of flexibility in service, as well as maintaining exceptional structural integrity.There are a variety of compounds covering light to heavy-duty applications. The substrate is woven, treated with a friction compound and baked.